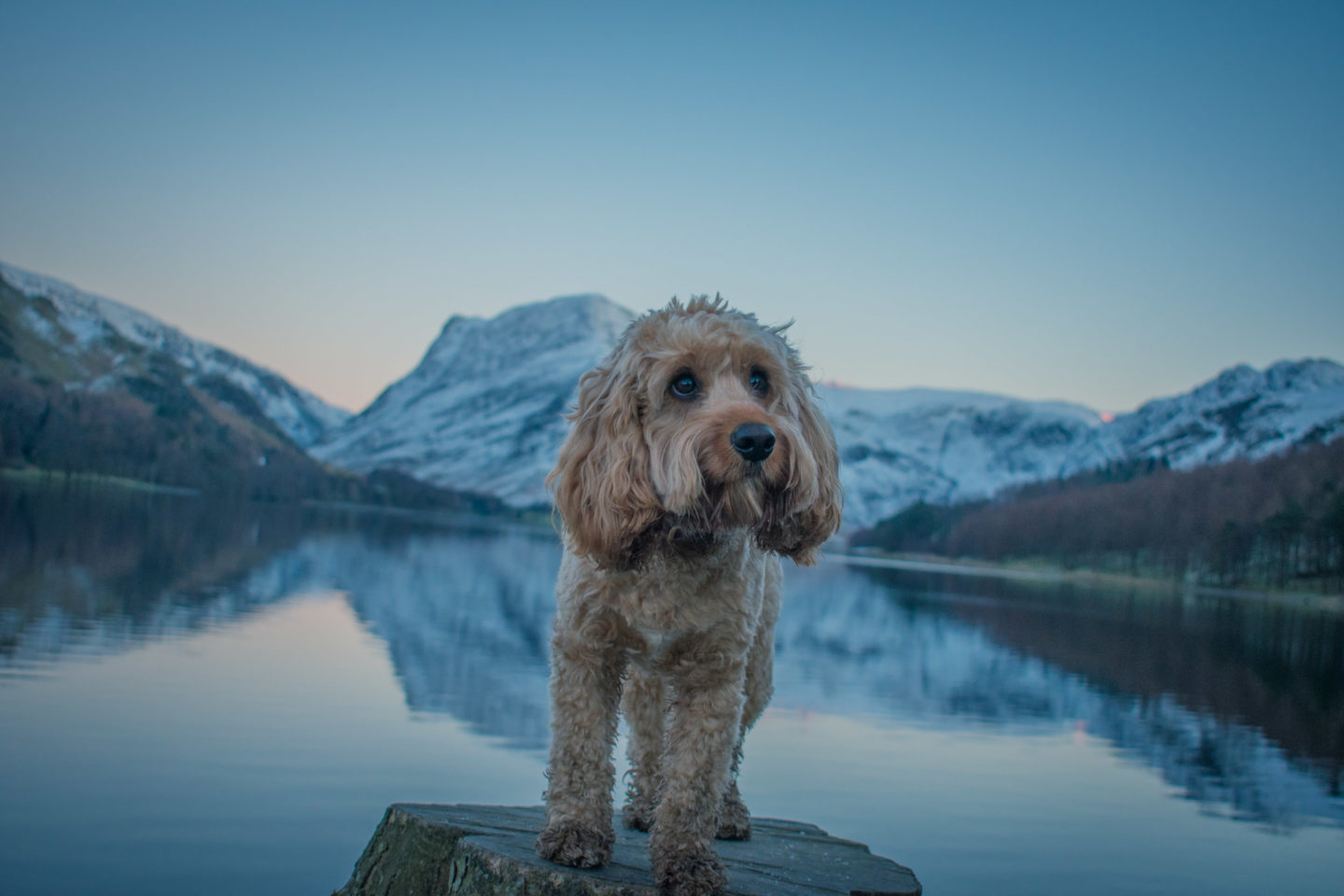 We've always been huge lovers of the Lake District; every time we visit, we just love it even more… and this time was no exception. We always go prepared for rain, but when you catch the Lake District on a good day, you can't beat it. With the combination of huge mountains and lakes it's the ultimate doggy paradise!
The cosiest of cottages…
We were staying in a beautiful cottage called The Bothy, tucked away in a little hamlet 10 minutes from Windermere. The weather was against us on our way up due to heavy snow, but once we arrived at the cottage to wine and chocolates, we immediately felt at home and just loved its cosy feel. The owners really had thought of everything for us, even including a towel, dog bowl and treats for Poppy!
Walks, walks and more walks…
It wouldn't be a trip to the Lake District without some good walks so we made sure we allowed plenty of time for hiking during our trip.
On our first night we squeezed in a quick walk up to Orrest Head after our long drive. Considering how little effort you have to put in to reach the viewpoint at the top, the views are amazing. It was an easy 20-minute walk to see the beautiful snowy sunset looking out over Lake Windermere.
Our second walk of the trip took us over to Buttermere – a real favourite of ours. It's amazing how different the lake looks dependent on the seasons and the reflections from the snow-covered mountains over the lake were unbelievable. There's a lovely circuit of the lake you can complete in about 2 hours, but we chose to tackle a steep climb (through knee-deep snow!) up to the summit of Dodd. The views were totally worth it: we could see as far as Scotland from the top!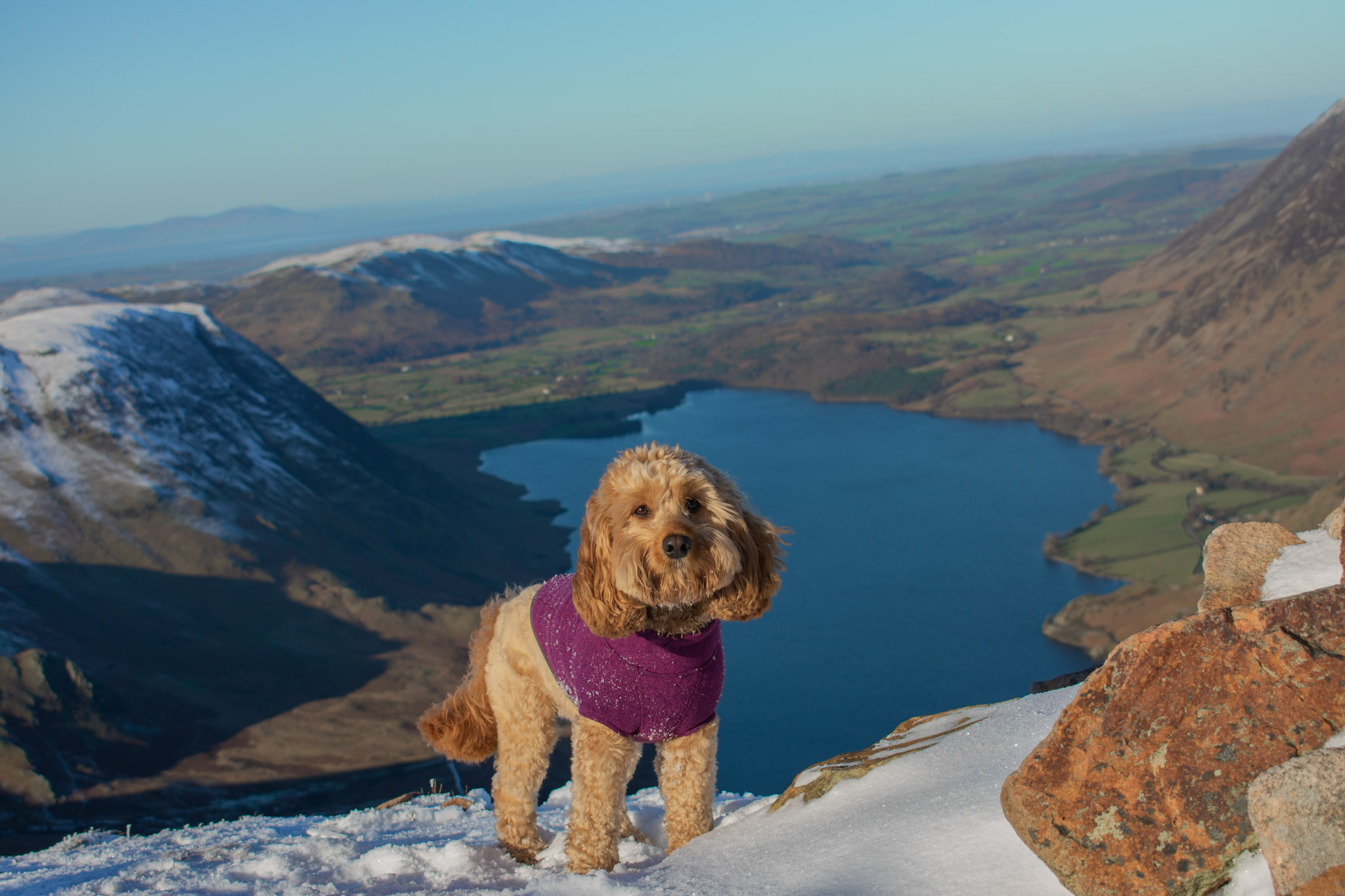 Our final walk took us from Ambleside over Loughrigg Fell to Rydal Water and Rydal Cave. This was such a great varied walk taking us over fells with views for miles, along rivers and into a giant cave! You can find the full route here.
Dog-friendly cafes to welcome you after long hikes…
Of course, the long walks certainly helped us to build up an appetite, so we were always on the look out for dog friendly spots for a bite to eat. The Smith in Windermere was an easy drive from our cottage, serving up delicious homemade pizzas cooked in their pizza oven. Poppy found a cosy spot by the fire and we ended up returning here several times as we loved it so much.
Another favourite was The Copper Pot in the picturesque Ambleside, great to warm up by the fire after a long hike with incredible ciabattas and truffle fries! Heidis in Grasmere was incredibly dog-friendly – the owner takes polaroid pictures of all their canine customers to add to their doggy wall of fame. Poppy was awarded the coveted title of dog of the day after her hilarious attempt at smiling for the camera!
Jaspers Coffee House in Keswick took dog-friendly to a whole new level with dog related art and gifts all around the café; Poppy even got her very own bandana to model. All dogs big and small are welcomed here; Poppy even made friends with a giant Leonberger while we were having our lunch.
With the perfect mix of walks, lakes and cosy cafes, the Lake District still remains a firm favourite for us for the perfect dog friendly holiday. We will most definitely be back!