Norfolk may not seem like an obvious choice for a weekend break in December, but we loved exploring the unspoilt coastline and beautiful seaside towns without the Summer crowds. With miles of sandy beaches to ourselves, cosy pubs with log burning fires and a lovely cottage to return to in the evening here's what we loved most about our Norfolk winter getaway.
A quaint cottage in the loveliest village…
We were staying in Lilac Cottage, a charming cottage in the lovely village of Snettisham. It was the perfect place for us to go home to in the evenings and sit by the log burner to warm up after a day in the cold December weather. The cottage was in a great location in the centre of the village, with everything we needed within short walking distance including shops and pubs.
December meant entire beaches to ourselves…
We'd heard great things about the beaches in Norfolk, so made sure to see as many as we could over our weekend. After a 4 hour drive to our cottage, we just made it to Snettisham beach in time for sunset and a walk on the beach after the long journey. Whilst this was a shingle beach, we didn't see a single person and it was such a lovely spot to watch the sun go down on our first evening.
Probably our favourite beach of the weekend was Holkham beach, miles of golden sand backed by dunes. This beach is often voted amongst the best in the UK and we could see why! Poppy was absolutely in her element here, she had so much space to run around and paddle in the shallows. We walked all the way along the beach to Wells next the Sea, where the colourful beach huts line the edge of the beach.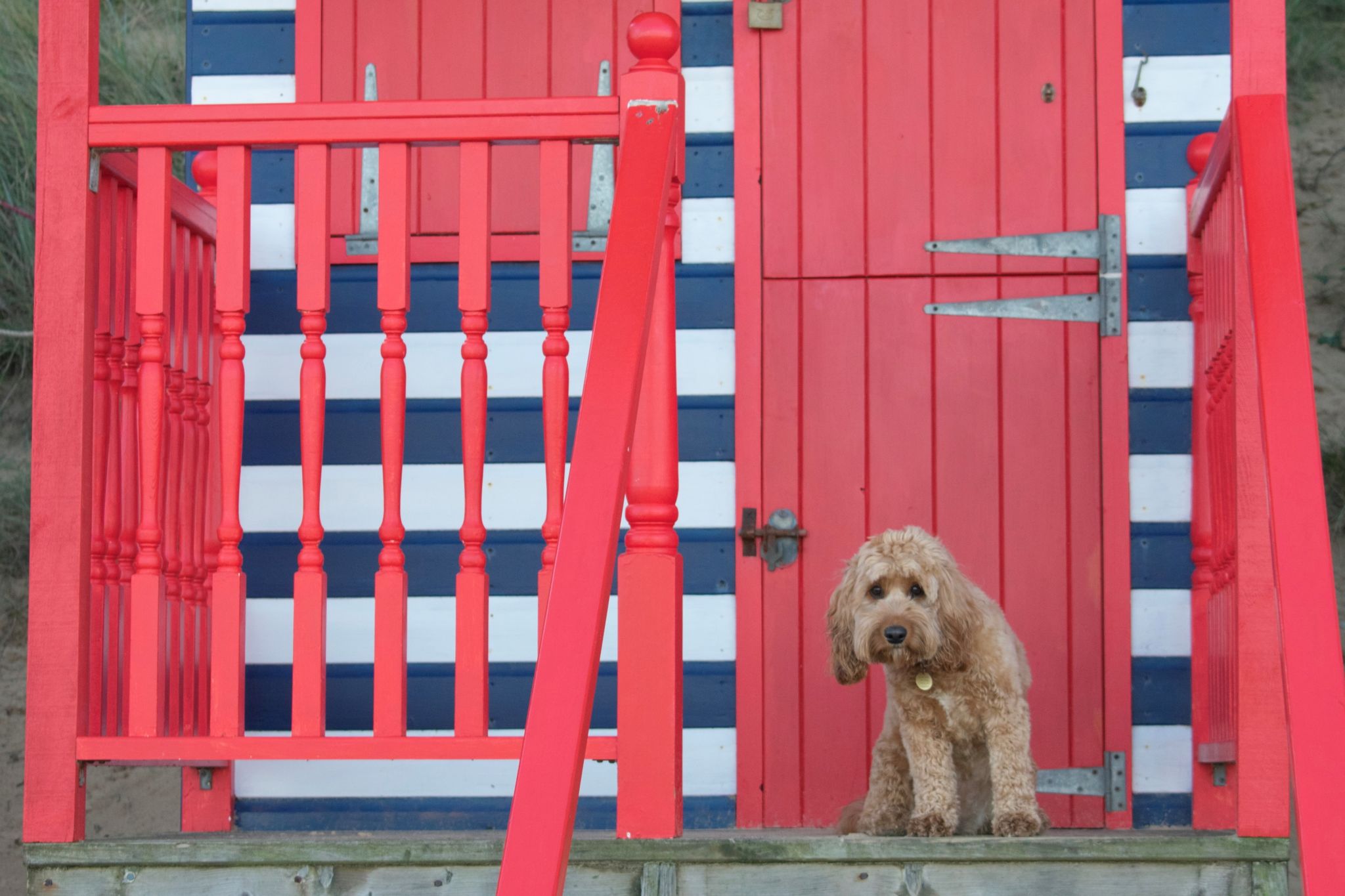 Cromer beach was another favourite, we loved exploring the seaside town with all its independent shops and cafes before heading down to the beach. We found a fantastic walk starting from a very windy Cromer pier and walking all the way down the beach to Overstrand, then back over the clifftops.
Dogs get a very warm welcome wherever you eat…
We managed to try plenty of pubs on our trip to Norfolk (often to escape the cold!) and it was lovely to see that dogs were welcomed everywhere we went. A real standout was The Dabbling Duck in Great Massingham. The food was amongst the best pub food we've ever eaten and they even had a doggy menu available for four legged friends, as well a polaroid photo wall of their favourite pub dogs over the years! Another great spot was The Victoria Inn in Holkham, an amazing spot to warm up with a delicious mulled wine and homemade dog treats for Poppy.
Shucks at the Yurt in Thornham was a really quirky place for breakfast, with a fantastic selection of locally sourced options and treats for Poppy on tap. The yurt was beautifully decorated and made us feel very Christmassy with the log burner, decorations and snuggly blankets to warm up with. Hatters Tea Shop in Cromer was another favourite breakfast spot, and they had a beautiful gift shop area in the café with gifts for dogs and humans!
You can even take your dog to see the seals…
One of the real highlights of our trip was going to see the seals off Blakeney point on our final morning. Surprisingly, although it was FREEZING, December was a really great time to go! Grey seals have their pups between November and January so there were plenty of seal pups to see. We went with Beans Boats who were incredibly friendly and welcomed Poppy on the guided boat trip. The boat took us really close to the basking seals on the beach, and Poppy loved looking over the side of the boat to see what was going on until she was caught off guard by a huge wave!
We just loved our weekend in Norfolk, it was so incredibly dog friendly and a lovely change away from our usual hiking up hills and mountains!
Thanks for reading,
Cara, Andy and Poppy x