Call us crazy, but we really love a January getaway – yes, the weather might be a gamble (when isn't it a gamble in the UK though!) but there's just something about a cosy dog friendly holiday to get us through those dark days of January along with enjoying the very best of the UK, minus the crowds.
So, we were thrilled when Debbie reached out to us to invite us to stay in Angel Barn, one of three dog friendly properties that makes up A Corner of Eden.
Nestled perfectly in rural Cumbria in the newly extended Yorkshire Dales, yet only a short distance from the Lake District National Park, Angel Barn is right on the doorstep of two of the most picturesque national parks in the UK, so you really are spoilt for choice when it comes to deciding on a dog friendly adventure during your stay.
The cottage
Despite a horrendous journey up the M6 in Friday rush hour, we arrived to a very pretty and snow-covered Angel Barn. Seeing as it was pitch black on arrival, it was a welcome relief knowing that the barn had a fully secure private garden and parking area to allow the dogs to stretch their legs after the 6-hour journey!
Inside the great first impressions continued, with a really generous kitchen diner and cosy lounge complete with very inviting log burner greeting us downstairs. This soon became Poppy and Maple's favourite spot for the weekend, with snoozes by the fire after a long day in the hills and beautiful tweed upholstered armchairs for humans.
Upstairs, Angel Barn benefits from 3 king/super-king en-suite bedrooms. We had friends staying at the barn with us over the weekend, and it was really nice to have a cottage sleeping 6 adults comfortably without the short straw kid's bedroom that we so often find!
While upstairs at Angel Barn is a no dog zone, Poppy and Maple were more than happy enjoying the underfloor heating downstairs overnight. One thing we did really appreciate was the stair gate at the bottom of the stairs – it just made life so much easier not having to worry if the dogs would nip upstairs when we weren't looking!
We really notice the little extras when it comes to finding that perfect dog friendly holiday cottage, and what struck us immediately was how carefully every tiny detail at Angel Barn had been considered. Not only was it easily the best stocked holiday cottage kitchen we've enjoyed, but probably the best human welcome hamper we've received. Complete with a plethora of local goodies, bottle of champagne, a fresh chocolate cake, eggs from the resident chickens and much more we really did feel totally spoilt. The dogs weren't left out either, with bowls, treats, poo bags and towels for drying off paws all ready and waiting for them.
If you've forgotten any essentials for the humans (beer/gin/wine) or the dogs (extra treats), there's a very well stocked honesty bar in the kitchen, and further goodies in the very adorable Shed Shop just on the other side of the courtyard.
Debbie very kindly preheated the wood-fired hot tub for us to enjoy on our arrival day, which was the most perfect wind down after our delayed journey. Even better, A Corner of Eden sits in a designated dark sky area and under the clear night sky, we had one of the most vibrant displays of stars I think we've ever seen. A real memorable highlight of our stay.
In the area
Wild Boar Fell
We really love a walk from the door and as the 4th highest peak in the Yorkshire Dales, Wild Boar Fell sounded like an absolute must-see when suggested by our host Debbie. The route had kindly been marked on the OS Map provided at Angel Barn, but even on a very grey day in the snow, it was a very easy route to follow, with the vast majority of the ascent following the Pennine Bridleway up the valley.
With a vast plateau summit at 708m, views over the Eden Valley The Howgills, the Pennines, the Lake District and the Yorkshire Three Peaks can all be seen on a clear day. The walk took us just under 3 hours, including a stop at the top for some chocolate cake! We had the entire summit to ourselves with not another soul in sight – we love January!
The Lake District
Just the other side of the M6 to A Corner of Eden, the Lake District offers a huge number of options for a dog friendly day out. With snow on the ground and unseasonably perfect conditions for January, we opted for a route up Sheffield Pike and over to Glenridding Dodd from the shores of Ullswater.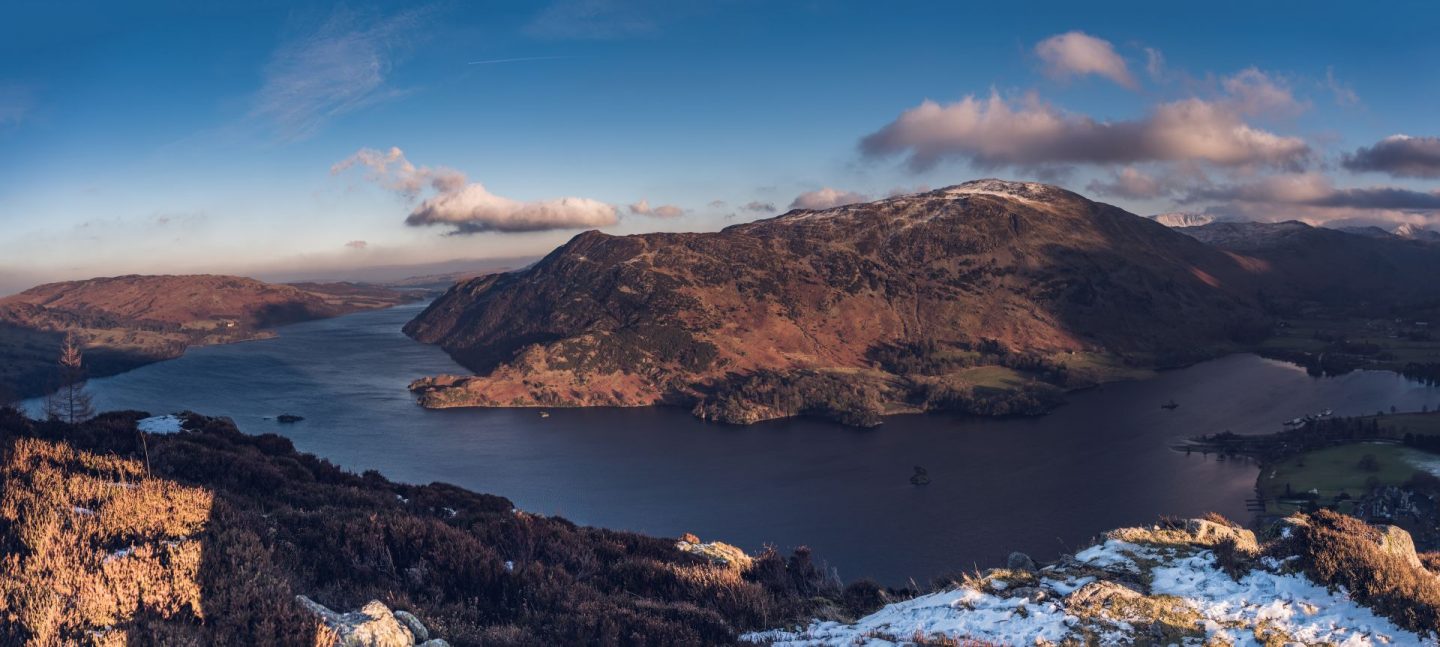 This walk really does offer a perfect flavour of what the Lake District has to offer, with spectacular views over Ullswater and over to the neighbouring mountains including the Helvellyn range.
If you want to make a shorter walk, you can just head straight up the steep climb to Glenridding Dodd – it's definitely worth the effort!
The Black Swan, Ravenstonedale
Despite it's rural location, Angel Barn benefits from 3 pubs within very easy reach (with one of them only a short walk over some fields!) Just 2.5 miles away in the unspoilt and picturesque village of Ravenstonedale, Debbie recommended The Black Swan to us – one look at their menu and we were sold! Recently named the 20th best gastropub in the UK, we had high expectations of the food and it didn't disappoint. After our walk up Wild Boar Fell in the morning, we settled on Sunday roasts all round and they were absolutely delicious.
The dogs were spoiled rotten too, I think every member of staff had delivered them a gravy bone by the end of our meal!
Overall, we really couldn't have asked for a better weekend at A Corner of Eden. Photos really don't do justice to how much thought has gone into every detail of transforming Angel Barn into a perfect dog friendly holiday home. We'd revisit in a heartbeat!
Thanks for reading,
Cara, Andy, Poppy and Maple x
This post is a collaboration with A Corner of Eden and we enjoyed a complimentary 2 night stay in return for an honest review.
You can book your own luxury dog friendly stay with A Corner of Eden direct on their website here.