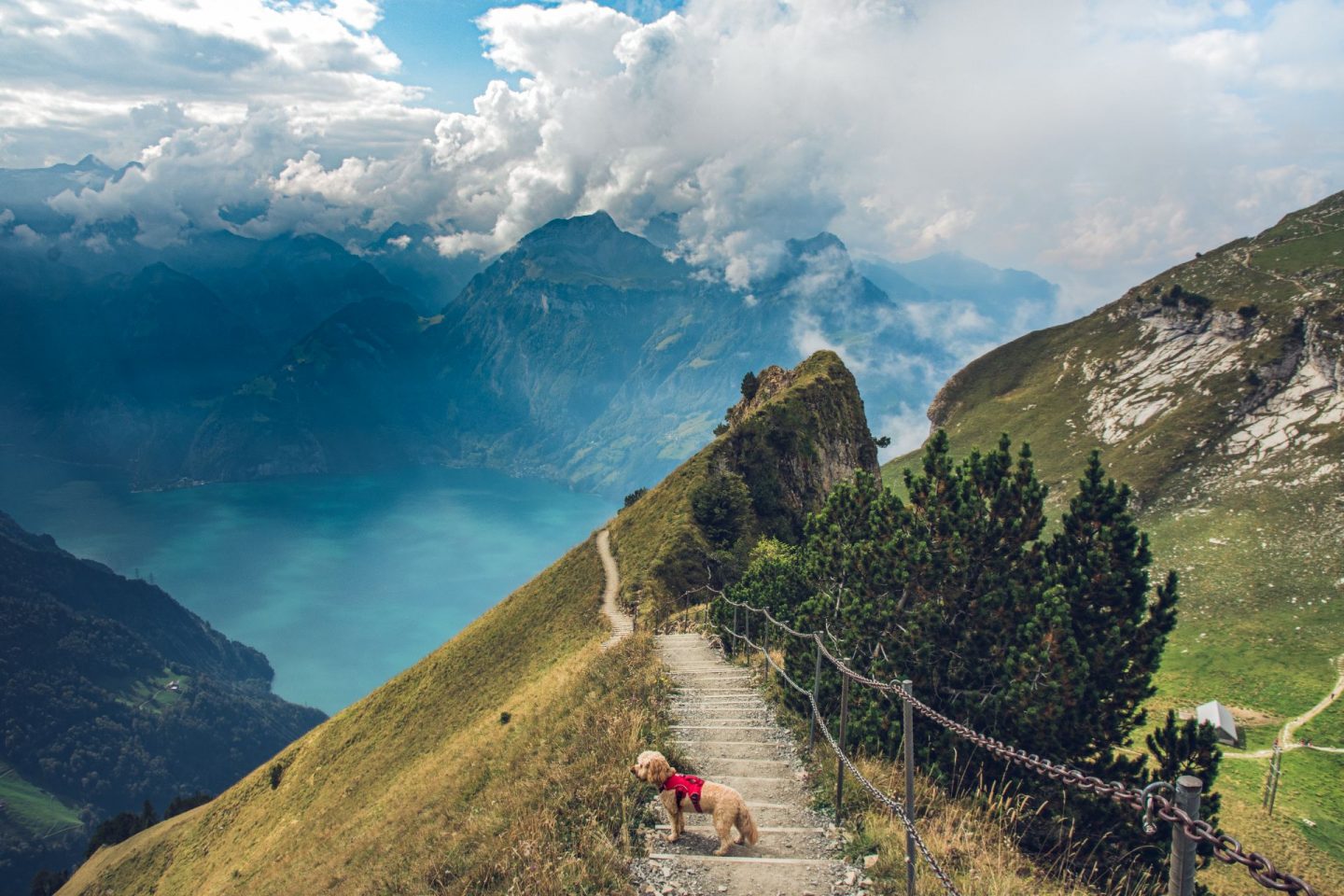 We've dreamed of visiting the Alps with Poppy ever since she was a puppy, and after our 2 week trip to Switzerland, we can honestly say it's the most dog friendly country we've ever visited.
There is SO much to see in Switzerland, and if there's one thing we've learnt on our travels with Poppy over the last few years, it's don't try to see it all! Honestly, we've spent some trips where we've run ourselves ragged trying to cram in as much as possible, but one of the best decisions we made on this holiday was to limit the number of bases we had. This gave us much more time to properly explore and hike around an area rather than just a whistle stop tour of Switzerland.
Based on this thinking, we picked 4 main bases for our road trip which was the perfect amount for a 2 week holiday. It meant we weren't packing up our bags every day and having to check out of somewhere every morning, on the whole it was just much less stressful and allowed us to spend more time exploring! We also tried to mix up hotels and self catered accommodation to control our costs a bit more.
If this is your first time abroad with dogs, take a look at our first timers guide to travelling abroad with your dog.
Day 1: Drive from UK
After lots of research into the best way to get to Switzerland with a dog, we settled on driving as the easiest and most cost-effective option for our trip. Flying was an immediate no for us as we wouldn't be comfortable putting Poppy in the hold of a plane and the costs and time taken for travelling by train put us off this.
With a drive to Switzerland of around 800 miles, we looked into the options and found that by far the quickest and easiest way of getting to France was by Eurotunnel. The crossing takes just 35 minutes and you can stay in the car with your dog for the entire journey! Not only did this allow us to do our outbound and return journeys in just one day, having our car gave us so much flexibility throughout our holiday to see things which wouldn't have been as accessible by public transport.
Our original plan was to stay in France en route to Switzerland, but with the worsening Covid situation there we just didn't think it was a good idea. So, we ploughed on through France and aimed for Lausanne, half an hour over the border from France. We'd earmarked an Ibis for the night but didn't book in advance, we just turned up at 11pm, paid for a room and hit the hay!
Days 2 – 5: Zermatt
We absolutely loved our first few days in Zermatt. It's a lovely bustling village even in Summer and of course the views of the Matterhorn are breathtaking. You're spoilt for choice when it comes to walks in this area, and although the lifts in Zermatt are eye wateringly expensive, dogs travel for free on all mountain lifts.
Must sees
5 Lakes Walk
A great walk for a sunny day is the 5 Seenweg. This hike takes you past the lakes of Stellisee, Grindjisee, Grünsee, Moosjisee and Leisee with stunning views of the Matterhorn. Allow 3 hours for the full hike and if you pick a calm day you're likely to see stunning reflections in the lakes.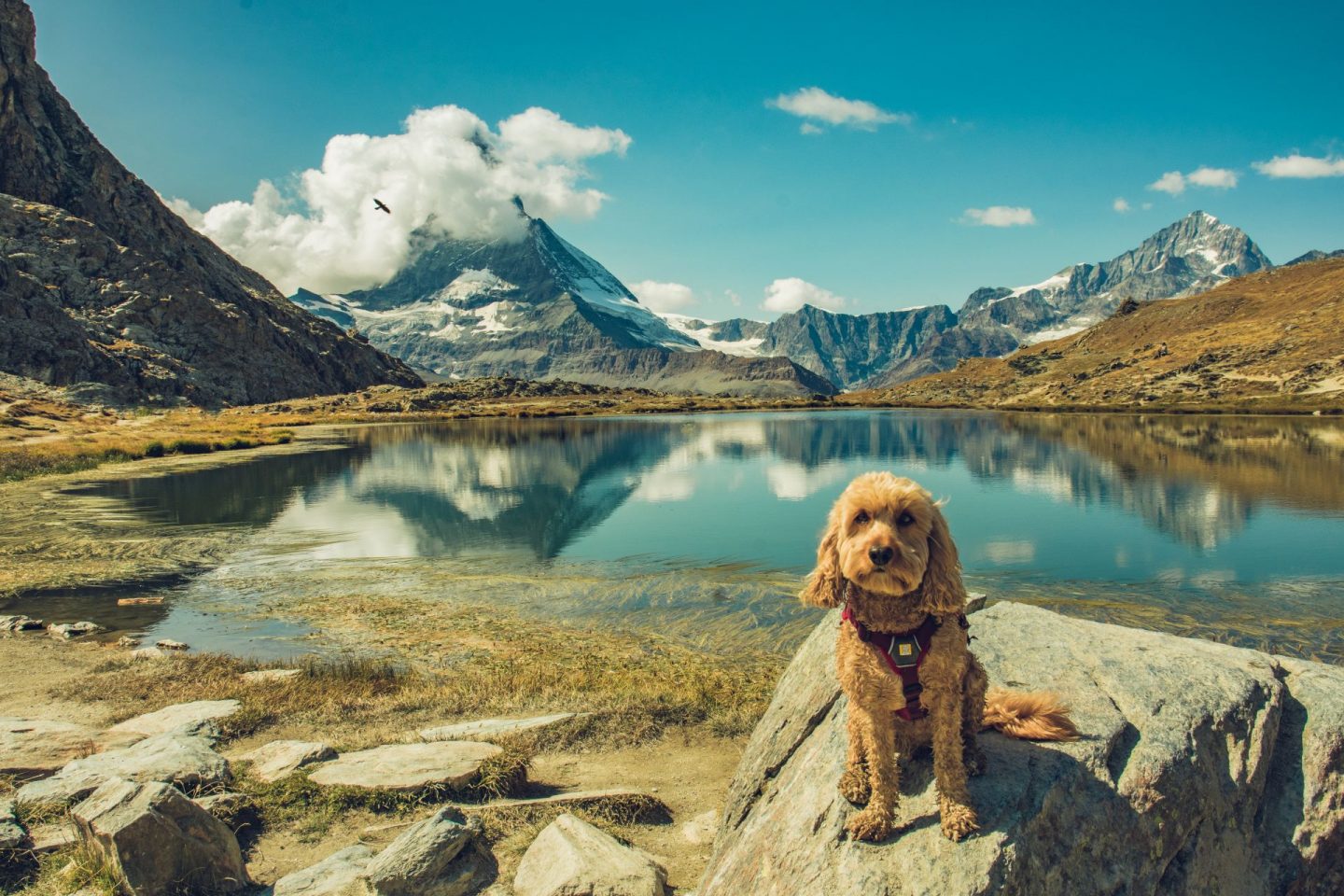 Gornergrat
We'd highly recommend spending a day trying to get a bit closer to the Matterhorn and either head up to the Gornergrat or Glacier Paradise. We opted for Gornergrat and decided to hike up from Riffelalp but this was a tough hike with with the altitude above 3000 metres. If you'd prefer a more gentle day, can catch the train all the way to the top, admire the views of the Gorner glacier then walk down to the Riffelsee lake. If you're lucky you'll get a reflection of the Matterhorn in the lake which is just incredible to see.
Gourmetweg
With weary legs on day 4, we had earmarked the Gourmetweg, a mountain path which leads past numerous mountain restaurants back down to Zermatt village. Just catch the lift up to Sunnegga, then it's mostly gentle downhill with various foodie stops along the way!
Accommodation: Hotel Alpenhof Zermatt https://www.julen.ch/en/hotel-alpenhof/
Cost: 300CHF per night including half board. (Breakfast and 5 course dinner each night).
Review: We absolutely LOVED this hotel. Spacious modern rooms, beautiful spa and a lovely Swiss style bar area with open fire. Fantastic location in the middle of Zermatt just a few steps away from one of the main mountain lifts (Sunnegga).
I'd highly recommend the half board option. It may seem expensive but when you see the cost of eating out in Zermatt, it's easily the best option. The family own 3 hotels in Zermatt and as part of this you can 'dine around' in restaurants in their other hotels. One night we chose to visit their speciality cheese restaurant for fondue (apparently not the done thing in Switzerland in Summer but we didn't care!)
Dog friendly rating: 10/10. Poppy was welcomed in all areas of the hotel except the spa.
Dog surcharge: 20CHF per night.
Day 5-10: Beatenberg (near Interlaken)
You're completely spoilt for choice with things to see in this area. We spent 5 nights in the Interlaken area and didn't even scratch the surface! If there's only one place to base yourself in for a Switzerland trip, I'd argue that this is probably it. With easy access to the entire Bernese Oberland region, snow-capped mountains and blue lakes, this place is everything we dreamed a trip to Switzerland would be!
Must sees
Oeschinensee and Blausee
A day of two very different lakes. We recommend starting your day at Blausee which is actually a working trout farm! There's a small fee for entry and can get busy later in the day but is worth a visit for the incredible clear water – a boat trip on the lake is also included in your ticket price. The geography of the area gives Blausee a unique deep blue colour, with crystal clear water and some easy strolls around the lake and woodland. Dogs on leads, due to there being trout everywhere!
Just down the road, we highly recommend a trip to Oeschinensee. This is the number 1 highlight of our trip. It is possibly one of the most beautiful locations in the world with clear blue water framed by the jagged alpine peaks. Park at Kandersteg to take a cable car up. From there it's a short walk to the lake. If you have any energy left in your legs there's an 8km panoramic walk but it is a steep climb!
Lauterbrunnen
Waterfall central! This picturesque valley of 72 waterfalls gave Lord of the Rings author JRR Tolkien inspiration for the city of Rivendell and it's easy to see why. Driving to park at the Lauterbrunnen train station, we then walked around the village and then along the valley taking in the sights such as Staubbach Falls, a waterfall which you can actually walk behind! It's also worth a trip to Trummelbach Falls, a network of 10 waterfalls which are inside the mountain. Due to the confined tunnels and noise from the rushing water this is understandably not dog friendly, but is definitely worth a visit if you can.
To complete a lovely circuit, walk along the valley to a cable car which takes you up directly up the steep cliff face to the car-free village of Murren, providing more breathtaking views of the valley below. From here you can get a train back down to the Lauterbrunnen train station.
Schynige Platte to First hike
We wanted to get at least one full day walk in the area and if you enjoy hiking, we'd highly recommend the hike from Schynige Platte to First. Catch the first train of the day from Interlaken up to Schynige Platte, then it's a spectacular 16km walk over the mountains to First. A particular highlight was the stunning lake of Bachalpsee. Once you reach First, take the cable car to the lovely village of Grindelwald and a train back to Wilderswil.
Bachalpsee lake is also accessible in a 1 hour hike from First mountain station if you'd prefer a shorter walk.
Accommodation: Ula's Holiday Apartments https://www.holidayapartments.ch
Cost: 150 CHF per night
Review: This was a brilliant base for us to explore the Bernese Oberland area. Being in easy reach of Interlaken meant it was very easy to get to each of the places we explored and although small, this apartment was ideal for a few nights and the self catering aspect helped us cut down on costs for a few days. Ula the host lives next door and kindly did a couple of loads of washing for us while we were there too!
Dog friendly rating: 10/10
Dog surcharge: Free
Day 10-12: Lucerne area
As this was a birthday trip, we had to have a couple of nights splurge and picked the Hotel Villa Honegg near Lucerne. With the infinity pool of dreams, we enjoyed having a couple of days to relax at the hotel (as did Poppy!)
Must sees
Lucerne
For a gentle day of sightseeing, Lucerne is well worth a visit. Make sure to explore the Old Town with the Chapel bridge. The iconic covered walkway, the oldest sheltered bridge in the world, is a symbol of Lucerne and one of the cities main tourist attractions. It's also a great city to catch a boat ride to see the city and surrounding areas from a different angle.
Stoos
We'd highly recommend the Stoos ridge hike from Klingenstock to Fronalpstock, with spectacular views over lakes and mountain peaks. Although we did this hike on a cloudy day, we were lucky to have the clouds lift for an incredible view near Fronalpstock.
Accommodation: Villa Honegg https://villa-honegg.ch/en/
Cost: An eye wateringly expensive 800CHF per night bed and breakfast
Review: Probably a controversial and not often seen opinion, but we wouldn't return to this hotel. It is lovely, the room is very nice and the spa is absolutely incredible, but for the price we expected so much more. The service was very hit and miss and the food was very average. We wandered down the hill to the nearby Burgenstock Resort for food on the second night and were so impressed, so this is certainly where we'd look to book for a splurge if we were returning!
Dog friendly rating: 8/10. Bowl provided in room and Poppy was welcomed in bar and terrace but not restaurant.
Dog surcharge: 40CHF per night
Day 12-15: Lugano
It wouldn't be a trip to Lugano without a visit to it's very own mountain, Mount San Salvatore. At the top you'll be treated to 360 degree views of city, lakes and views of the Alps. A funicular can take you up to the top and there are a number of trails to explore once you're up there.
Must sees
Gandria
Gandria was a stunning village to visit, built into the mountain side of Mount Brè with the narrowest of streets and stairways. We walked along the lakeside from Lugano, but you can also get a boat straight from the city into the village.
Lavertezzo
The incredible water of the Verzasca river in Lavertezzo is the clearest water we've ever seen! It can get busy here in summer, but it's a must see if you're in Ticino and was one of the real highlights of our trip. Take a trail along the river from the main bridge to get away from the crowds!
Accommodation: Guesthouse Castagnola https://www.gh-castagnola.com
Dog friendly rating: 10/10. Bowl and treats provided in room. Poppy welcome to join us for breakfast.
Cost: 150CHF per night
Review: A really beautiful guesthouse and a perfect end to our holiday. The host Cristina was incredibly kind and helpful, with the most delicious breakfasts and homemade goodies in our room. She even called to arrange our vet appointment for Poppy when our lack of Italian speaking let us down!
Dog surcharge: Free
Something to bear in mind when you travel in Switzerland is that you'll be asked to pay a 'tourist tax' in your accommodation, this is often expected in cash at some point before the end of the stay. However this does give you access to using public transport for free in the area you're staying in which we found really useful.
If you're thinking of taking your dogs abroad with you for the first time, take a look at our first timers guide to travelling abroad with your dog with all the information you need to get on the road!