It can be quite a daunting prospect not just driving to Europe, but also taking your dog. Our road trip to Switzerland was our very first time taking Poppy abroad and we spent hours trawling the internet before we left, trying to make sure we had all the information we needed. If you'd like to see our 2 week Switzerland itinerary, you'll find it here.
Hopefully this quick guide is useful to have everything you need in one place to take your dog abroad with you.
This post was in collaboration with Eurotunnel – you can book tickets for your trip here.
BEFORE YOU TRAVEL
Animal Health Certificate
It's worth starting to get organised with this with your vet well in advance (at least a month).The current process and requirements are:
Dog must be microchipped
Dog must have rabies vaccination at least 21 days prior to travel. This vaccination lasts 3 years before a booster is needed.
Dog must have valid animal health certificate. This is a new requirement since 1st January 2021 and pet passports are no longer valid. Your dog will require a new animal health certificate for each trip you take to Europe. The animal health certificate needs to be issued no more than 10 days before you travel and costs around £120. The most up to date information issued by the government can be found here.
TOTAL COST: £155 varies from vet to vet.
Be aware that you will need to visit a vet while you're away to get a tapeworm treatment for your dog before returning to the UK. More on this further down.
How to get to France
If you're thinking about taking your dog abroad, I'd highly recommend you do it by car. It's pretty difficult (and expensive) to travel as a foot passenger with a dog.
By far the quickest and easiest way of getting to France is by Eurotunnel. It's the only way to cross the Channel that allows you to stay in the car with your dog for the whole journey, and even better it only takes 35 minutes!
On your outbound journey to France, you'll just need to take your dog to the Pet Reception located at the entrance of the Passenger Terminal Building to have their paperwork checked. It's really well signposted so just follow the signs! Once they're checked in, you can pop over to the brilliant pet exercise area, complete with agility course, poo bags/bins and water. We were so impressed with this and it was a great spot for Poppy to have a leg stretch before boarding our train.
Get your car France-ready
France has some quite particular requirements for travelling in the country and it's worth making sure you have all of the below items before you travel. French police are notorious for stopping foreign cars and slapping you with a hefty fine if you're not carrying these items!
Breathalysers (NF approved)
Hi-vis jackets/vests for each passenger in the vehicle
Headlamp deflectors
Torch
First aid kit
Safety triangle
UK car sticker (unless your number plate already has UK on it).
Get your dog used to the car for longer periods of time
We're very lucky that Poppy is a great traveller and once she gets comfy, she'll happily snooze for hours on end without even moving!
However, chances are a journey to Europe is going to be much longer than anything your dog has experienced before, so it's worth easing them into longer journeys.
The great thing about French motorways is that there are absolutely loads of 'aires' on the motorway – they're not full service stations, more just picnic areas with green space so ideal for stopping every so often to let your dog stretch their legs.
Start saving locations and places you'd love to visit
You can save these on Instagram or pin on Pinterest well in advance. Then plot these onto a google map layer and see where the most pins are. This is how we decided on our bases for our trip. Here's what my google map for Switzerland looked like! Honestly, we didn't even scratch the surface and there are so many places we still need to visit but this is a great starting point and how we go about planning our trips these days.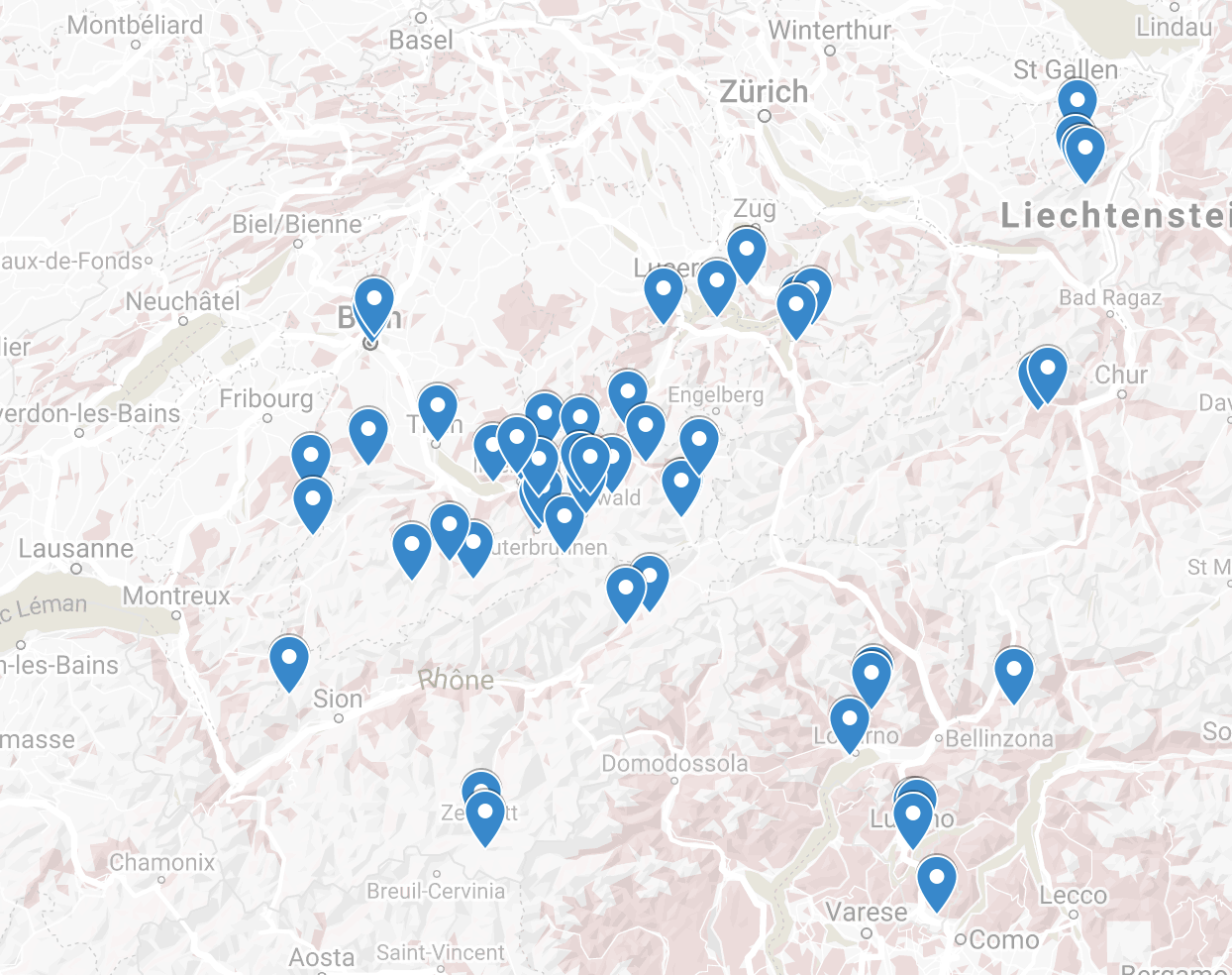 Get yourself a specialist bank card for foreign spending
I can't stress how this is so worth doing before you travel. We found both France and Switzerland to be moving to mostly cashless (especially given Covid restrictions) and you don't want to be constantly stung with foreign exchange fees. Switzerland is expensive enough as it is!
Some great options are out there for both debit cards and credit cards, so find one that fits you best and apply well in advance of your trip!
Andy has a Starling debit card which he just loads up with cash as and when and doesn't pay any fees for using this abroad.
I have a Barclaycard Platinum credit card which I pay off in full every month, but it allows me to spend and withdraw cash abroad without any fees or penalties.
WHEN YOU'RE AWAY
Look up the speed limits
Honestly we got ourselves in a right old flap worrying about what the speed limits were in France and then Switzerland to start with. We got flashed by a speed camera on a road in France and we still to this day don't know what speed limit was!!! Still waiting to see if we get a speeding ticket in the post…
Here's a quick rundown of the speed limits unless otherwise indicated in France and Switzerland for you (they work in KM/H just to make it extra confusing so conversions included).
France:
Motorways (dry weather) – 130 (81mph)
Motorways (wet weather) – 110 (68mph)
Roads outside of towns – 80 (50mph)
Roads in towns – 50 (31mph)
Switzerland:
Motorways – 120 (75mph)
Dual carriageways – 100 (62mph)
Roads outside of towns – 80 (50mph)
Roads in towns – 50 (31mph)
Motorway tolls
It's fairly common to pay for use of motorways in Europe, and in France you'll have to pay tolls along your route if you use the motorway. You can pay in cash or by card and it worked like a normal toll plaza, so you just pay for the distance you've covered. As a guide, it cost us around 100 euros total for our return journey.
In Switzerland, you'll need a motorway vignette which covers you for using all motorways across the country. You can buy these in advance but they're easy to get hold of near the border/at the border and at petrol stations around the country. It's a requirement to have one of these to travel on Swiss motorways and you'll risk a hefty fine if you get stopped without one.
They cost 40CHF and last for a calendar year. If you buy it in January it is valid for 12 months, if you buy it in December it's only valid for 1 month.
Eating out with your dog
I always thought that the UK was pretty dog friendly until I visited Switzerland. They are so dog friendly it's absolutely amazing, and you can usually expect to be able to take your dog (as long as well behaved) into all restaurants unless it's specified that you can't.
We took Poppy into a couple of very nice restaurants that I'd never dream of being able to take her to in the UK, including one with an open kitchen! For every meal we ate out in Switzerland, Poppy joined us. As a general rule, you should be able to take your dog with you everywhere and your host/hotel reception should be able to reassure you or check for you if you're unsure.
Look up a vet before your return
The PETs travel scheme that dogs currently travel on requires dogs to receive an approved tapeworm medication more than 24 hours but less than 120 hours before returning to the UK. This means you'll have to find a vet while you're abroad to see your dog and administer the tapeworm medication.
We were fortunate to have a wonderful English speaking host in our final base in Lugano who booked a vet appointment for us and explained in Italian what we needed. Thankfully the vet knew exactly what was required and it was a fairly stress-free experience considering we speak zero Italian!
The tapeworm medication should contain praziquantel. It's your responsibility to make sure that the vet enters the information correctly into your pet Animal Health Certificate, if it's wrong your dog will be refused travel back to the UK. Check that they have put the following details in the 'Anti-Echinococcus Treatment' section of your dog's Animal Health Certificate:
The name of the product your dog is treated with
The date and time they treated your dog( recorded in 24 hour format)
The vets stamp and signature
Returning to the UK
On return to the UK, your dogs paperwork will need to be checked before boarding the Eurotunnel. You'll need to allow time for this so arrive at least 45 minutes before your scheduled train. There is clear signage to the Pet Reception after you've checked in your car.
We were a bit nervous about this but it was so straightforward! There was a drive through pet reception operating, so we pulled in, they scanned Poppy's microchip then took her paperwork to be checked. A few minutes later we were handed an 'approved to travel' sticker which we added to our boarding hanger and we were good to go.
Hopefully that covers everything that you'll need to have the confidence to think about taking your dog abroad with you! We were pleasantly surprised how straightforward it was, and how welcoming everyone was towards Poppy.
If you have any questions just let us know 🙂
If you'd like to see our 2 week Switzerland itinerary, you'll find it here.
Thanks for reading,
Cara, Andy and Poppy x